When will it stop? Not until there's a lot more inventory. With such a significant shortage of available homes, sellers rule the market, and homes are selling at incredible speeds for record prices. And this isn't just for Seattle and King County, it's happening in Snohomish, Pierce, and Kitsap Counties too. King County buyers, unable to buy because of low demand and higher prices, are moving to the outlaying counties.
The median price of single-family homes sold in King County hit $480,000 in April, just $1,000 shy of the peak set in July 2007 before the housing bubble burst. April's median price was 9 percent higher than in March and 11.5 percent higher than a year ago, according to data from the Northwest Multiple Listing Service.
But don't worry, this isn't another bubble waiting to burst. While, the annual price gains and bidding wars may echo the bubble years, there's a crucial difference, according to the experts. The run-up in prices this time is fueled by job growth, new demand from foreign buyers and millennials, low interest rates, and a severe housing shortage.
Just check out the numbers for Seattle. In April, there were 630 homes on the market, 745 homes sold, and 949 homes went pending (into contract).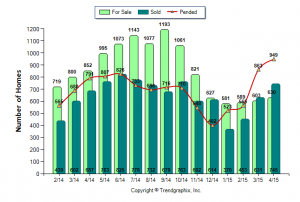 And the median price in Seattle for sold homes hit $540,000, up 5.9% from March and 18.4% from April of last year. As an example of the current frenzy, in April a home in Wallingford was listed for $725,000, received 25 offers, and closed at $913,000 (125% of list price).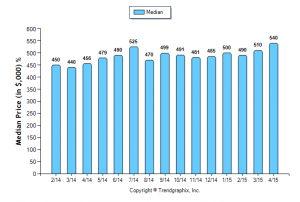 For more information on the market or to discuss listing your home, please call me at 206-790-0081 or email at [email protected].