The greater Seattle real estate market continues to show signs of a healthier, balanced market. While prices were down in January, we began to see the return of multiple offer situations. A lot of homes that were sitting on the market for a long period of time (60+ days) went pending, which is a good sign, but also shows why our Days on Market increased significantly in January. For example, in Seattle 364 single family homes sold in January for an average of 53 days on market. Of those 364, 110 sold in 0-14 days, 44 15-29 days, 66 in 30-59 days, and 144 in 60+ days.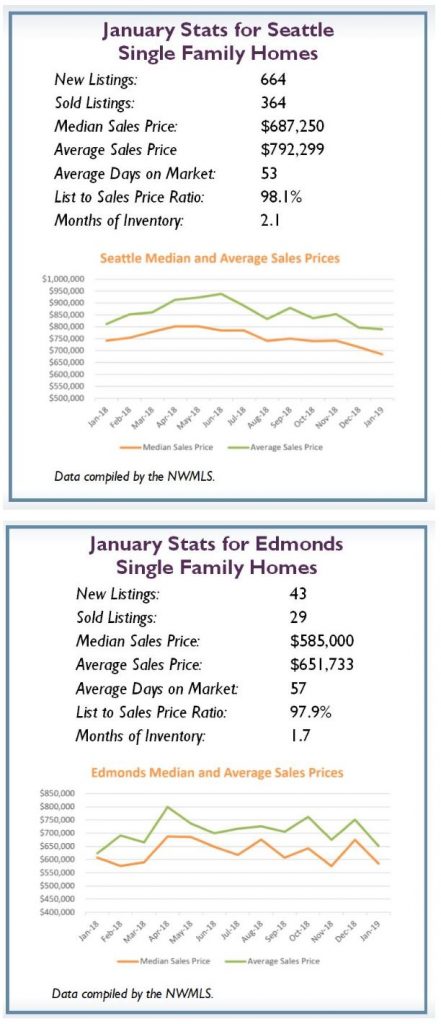 What this is telling us is that homes that have been priced properly are still selling quickly and that homes that have been sitting on the market have either had price reductions or sellers have accepted lower offers in order to get their homes sold. We see this when we look at sales to list price ratio, which at 98.1% for Seattle in January, means that sellers are taking lower offers. Additionally, with so much of the older inventory selling, we are seeing less homes available on the market, and with inventory low, the market still favors the seller.
Pricing properly is the key to getting your hold sold quickly and when you work with me, I will be analyzing the market daily to determine the best price at which to list your property.
For buyers, interest rates seem to have settled down, and even gone down a little. The Fed has said they don't plan on raising interest rates again for awhile. This, coupled with lower sales prices, means it's a great time for you to get in the market.
For additional information or for a complimentary market analysis of your home, please call or text: (206) 790-0081 or send an email to [email protected]