Yesterday the meteorologists were predicting up to 14 inches of snow in the Puget Sound area. Here in Seattle we rarely get snow so I was surprised this morning to wake up to an inch or two in our neighborhood. And I just looked out the window and there's more snow coming down right now.
We live across the street from a small park and looking out, I've seen snowball fights, kids sledding, and even a snowboarder going down the sidewalk.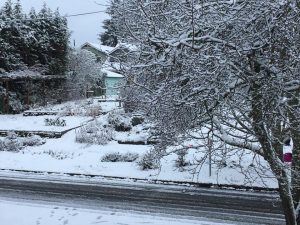 This is the 2nd snow we've seen this year but the first one that has shut the city down. Newcomers laugh (especially those from snowy areas of the country) because literally, Seattle comes to a halt with just an inch or two of snow. Schools close, businesses close (including my office today), government agencies and courts close or provide limited services, and traffic is snarled.
The reality is that Seattle is a city of hills and water, and snow among neighborhoods varies considerably. I live in Phinney Ridge by Green Lake and we get almost no snow. I've heard from friends that West Seattle has 6 inches and SE Seattle 8 inches. Because of the hills, many roads become closed – in fact Queen Anne Ave. up to the top of Queen Anne often is filled with skiers and sledders. And once you get out of the city, there's a lot more snow, with a foot or so in many suburban/rural areas.
So, if you're thinking of moving to Seattle, be prepared. It doesn't happen often but when it snows, be ready. If you've got kids, keep a sled in the garage for days like today. I'm curled up by the fire with a cup of coffee, after having made breakfast for my family. While I'll definitely be doing some work today, it also seems like a great day for a good book. Enjoy and stay warm!