Western Washington's crazy real estate market continued during January with the number of pending sales (7,745) outgaining the number of new listings (6,507), according to new figures from Northwest Multiple Listing Service. Properties are moving through the market at an unusually fast pace.
Seattle New vs. Sold Listings, Single Family Homes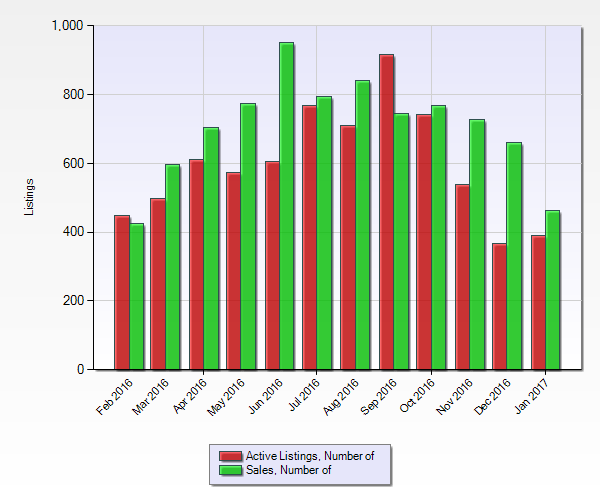 Brokers added 6,507 new listings to inventory last month (163 fewer than during the same period a year ago), while year-over-year pending sales jumped by 492 transactions for a gain of about 6.8 percent. New listing volume was the highest monthly total since October when members added 7,591 properties.
At month-end, there were 9,752 active listings in the MLS service area, which encompasses 23 counties. That total was 2,605 fewer than the year-ago volume of 12,357, a decline of 21 percent. Only three counties (Ferry, Jefferson and Kitsap) reported improvements in the number of active listings compared to the same month last year.
Measured by months of inventory, the selection is at historic lows in many counties. At month end, there was just under 1.7 months of supply system-wide, which compares to the year-ago figure of about 2.5 months of supply. Both King and Snohomish counties have less than one month of supply. The number of homes for sale remains at record lows, and the growth in pending sales tells us that sellers are still firmly in the driver's seat.
Five years ago buyers could choose from 5,378 listings of single family homes in King County versus last month's selection of 1,569 listings. Holding back the market – the combination of new jobs, a shortage of new homes, and a reluctance of sellers to list their home for fear of not being able to find their next one.
"List it and they will come" is the new mantra as new listings come on the market, with homes having hundreds of people through open houses and multiple offers the norm. Buyers who are properly positioned to make quick decisions, and who have the proper negotiation tactics and guidance are finding success in the market.
Not surprisingly given the imbalance in supply and demand, prices continue to rise. Last month's median price for the 5,874 completed sales of single family homes and condominiums was $327,175, up 9 percent from the year ago figure of $300,000. There were 889 more closed sales in January than for the same month a year ago for a 17.8 percent increase.
Single family home prices (excluding condos) increased 9 percent, rising from $309,950 to $338,000. The median price for single family homes that sold in King County last month was $525,000, up more than 6.9 percent from the year-ago sales price of $490,970. Several outlying counties reported double-digit gains.
"The softening of single family home prices in King County over the last few months, combined with the relatively large price increase in Snohomish County (8.2 percent) suggests buyers are migrating north in order to find more affordable housing," said Jacobi.
Brokers in Pierce and Kitsap counties also reported price hikes larger than King County's. The median price of a single family home in Pierce County jumped nearly 11.6 percent from a year ago while the year-over-year price in Kitsap was up 9.4 percent.
Condo prices rose 5.5 percent in January compared to a year ago, increasing from $255,750 to $289,900. King County condo prices surged more than 9.8 percent, from $282,250 to $310,000.