The May housing market was hot. Not as hot as a year ago, but still at it's strongest for 2019. In fact, in King County 70% of single-family homes sold in 15 days or less and 55% of single-family homes sold at or above list price.
With interest rates at the lowest they've been in over a year, at just under 4%, buyers are seeing that this is a great time to be in the market. One lender told me recently that she locked a client into a 30-year fixed loan at 3.75%.
You might have seen a news story recently that Tacoma is the hottest housing market in the Country. It's not surprising that buyers are going further to find affordable properties – an analysis of NWMLS inventory at the end of May shows only 13.8% of the listings of single-family homes in King County had asking prices under $600,000. That compares to 25.6% in Snohomish County, 31.2% in Pierce County and 35.3% in Kitsap County.
King County prices for single-family homes show a 3.6% decline from a year ago, but are at the highest level ($699,998) since June 2018 when the median price was $715,000. Snohomish nearly matched last year, the highest for the year as well.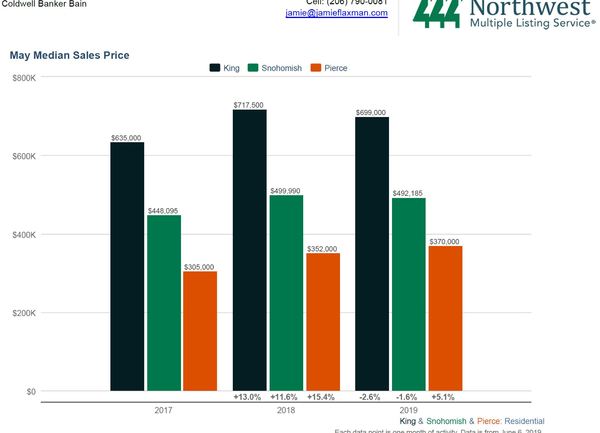 For more information on the market or your particular city or neighborhood, please reach out to me at (206) 790-0081 or [email protected].