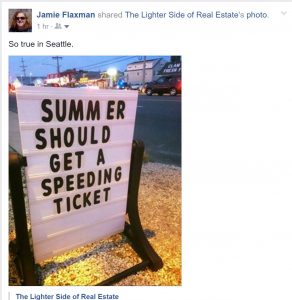 This is so true in Seattle. Labor Day is the unofficial end of summer and the official end is only two weeks ago. This summer raced by – both personally and in the real estate market. The market sizzled till mid-August when it slowed down, most likely due the fact that the weather was nice and Seattle-ites hit the road for vacation.
The end of summer triggers change.
Kids go back to (or start) school. I happen to know a lot of families with kids starting college this year. This morning I took a look at what it costs for a student to live in a dorm at the University of Washington. Excluding a meal plan, a dorm room can run you from $6,000 to nearly $12,000 for the academic year. For four years of college, that could run you up to $48,000. And if your student is going to live off-campus, rents are sky-high with many one bedroom apartments running at $1,500+/month and two bedrooms $2,000+/month.
Instead of paying the dorm fee or the rent for an off-campus apartment, have you thought about buying a condo, townhome, or single family home for your student? You'll be investing in your child's future as well as your own. The home will likely appreciate over time, meaning you may make money when you go to sell. If your child has roommates who pay some rent, you'll have income to offset some of your ownership costs.
For more information on purchasing a home for your college-age student, see a post I wrote in 2014 or give me a call/text/email so we can talk.
Stay tuned – my next post will be about the August market and expectations for the fall market.