Some of you may have noticed that you haven't seen blog posts from me for the past few months. There's a reason for that – in late September while on vacation I took a fall and broke both my ankles, both of which required surgery.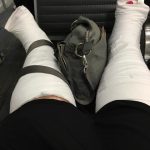 So my 2 weeks off became 3 months off. Today, January 3, 2017, I am happy to say I am back at work full-time. Over the past 3 months, I have worked part-time but most of my focus has been on healing. While I still have a ways to go, I am able to get out and around on my own now, so I'm here to say, "call, text, email so we can discuss your real estate needs."
I have learned a great deal during my recuperation. First and foremost, friends, colleagues, and family are AMAZING. If you have been one of those who has helped out in one way or another, thank you.
I have also learned more about home accessibility issues than I would ever imagine. As a homeowner of a home that is very inaccessible (entry/exit stairs and narrow doorways), I will now look at homes with a different viewpoint and will be able to even better assist my clients as they determine what type of home they wish to purchase. I read an interesting article on Universal Design, also known as Ageless Design. One of the basic principles of universal design is that it makes homes more practical and safer for everyone — not just the elderly or people with limited mobility. I hope that more builders will start to implement universal design features into their new construction.
Stay tuned for weekly posts (usually on Monday) and a monthly video (usually around the 15th). If there's a topic you'd like me to cover, call, text, or email the subject.
[email protected] or 206-790-0081