It's time for another story of downsizing, this time the story of Judith.
Judith and I met a couple years ago when she came to a class I was teaching at the Phinney Neighborhood Association. The class was on the steps and process of selling a home. She came up to me after the class to talk about her situation. She owned a one-bedroom home in the Ravenna neighborhood of Seattle which she purchased as a foreclosure in 1975 for around $12,000. She and her partner Kurt were wanting to sell this home and downsize into a condo with no steps involved.  She mentioned that they had been looking at condos for around 15 years and hadn't seen much that they liked. She was also concerned about the amount she would have to pay in capital gains taxes.
For the next year or two, we looked at a lot of condos, but given her budget and specific needs we weren't finding anything she liked. This past February we did, and she submitted an offer on a Bitter Lake condo, but was outbid. We kept looking.
This summer she was encouraged to look at a lovely unit at the Sequoyah in Edmonds. She hadn't wanted to leave Seattle but she was willing to look. While it was further away than she wanted, she had worked in Edmonds for many years so she was comfortable with the area. After seeing the condo and realizing it had everything she wanted and more, we submitted an offer and she got this unit.
She purchased the condo contingent on the sale of her house, so we had to immediately list. Many real estate brokers feel late August is not the time to bring a home on the market but we decided to do so anyway. Three days on the market and we had an offer significantly over list price.
The buyers of her home allowed for Judith to stay in the house for a couple months if needed. The condo she was buying would not be available until the end of September so Judith's plan is to move in October. She was able to have her purchase funds sent directly from the first escrow company to the second escrow company. Judith has put aside enough funds to cover her estimated capital gains taxes.
For me as her real estate broker, I was so happy to help her move out of the house and into the condo. She loved her house and was sad to be leaving it but is very excited to be moving on with her life. These transactions involved of juggling, and that's what I'm good at – I was able to ensure that both transactions closed without any issues.
Congratulations Judith and Kurt!
The transaction details.
House listed for sale August 24th for $590,000. 3 days on market. Sold for $617,000. Closed September 17th.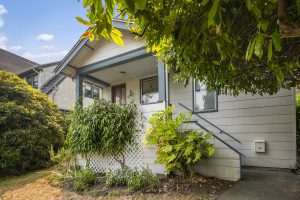 Condo purchase closed October 1st for $385,000.Condo purchase closed October 1st for $385,000.